The story behind Tenova's Sustainability Report
Tenova's strength has always been its ability to combine visionary foresight with brilliant engineering to create green, efficient, and reliable technologies. Long before it became a buzzword, sustainability was one of our core values as we worked to lead the way towards the sustainable transformation of our industry – one which currently contributes a remarkable 7-9% of global carbon emissions.
We know, however, that sustainability doesn't simply stop at what we create – it means assessing how we operate as a company as well. This is why, about two years ago, we decided to start working on our first Sustainability Report. Our aim was to both formalize our pledge to continue leading the way in the green transformation of our sector, but also to underline our commitment to mitigate our own emissions, while putting in place concrete actions and targets which would benefit our stakeholders – from our employees to the final users of our technologies – and the planet alike.
The period that followed in the lead up to the Report's publication was dynamic, rigorous and, above all, collaborative. After finding the right external partner to support us, we set up three multidisciplinary teams composed of colleagues from different departments and business units, each tasked with a clear goal: the Steering Committee decided the strategy, partnerships and action plan; the Project Team managed the project, coordinating with partners and monitoring progress; while the Operative Committee was responsible for sharing the strategy, goals and action plan across all business units and staff functions.
One of the first things the teams set out to do was conduct Tenova's first materiality assessment to identify our most relevant ESG topics. This entailed combining quantitative and qualitative insights, including surveying over 250 stakeholders and carrying out one-to-one interviews.
Once we had pinned down our material topics, our leaders and key internal stakeholders worked closely to develop our Sustainability Framework, a crucial milestone in formalizing our sustainability commitments and setting concrete priorities and targets for the upcoming years. This is how we identified three main pillars which underpin our Framework - Transformation, Trust and Transparency. These were our tailored ESGs, all starting with the 'T' for Tenova.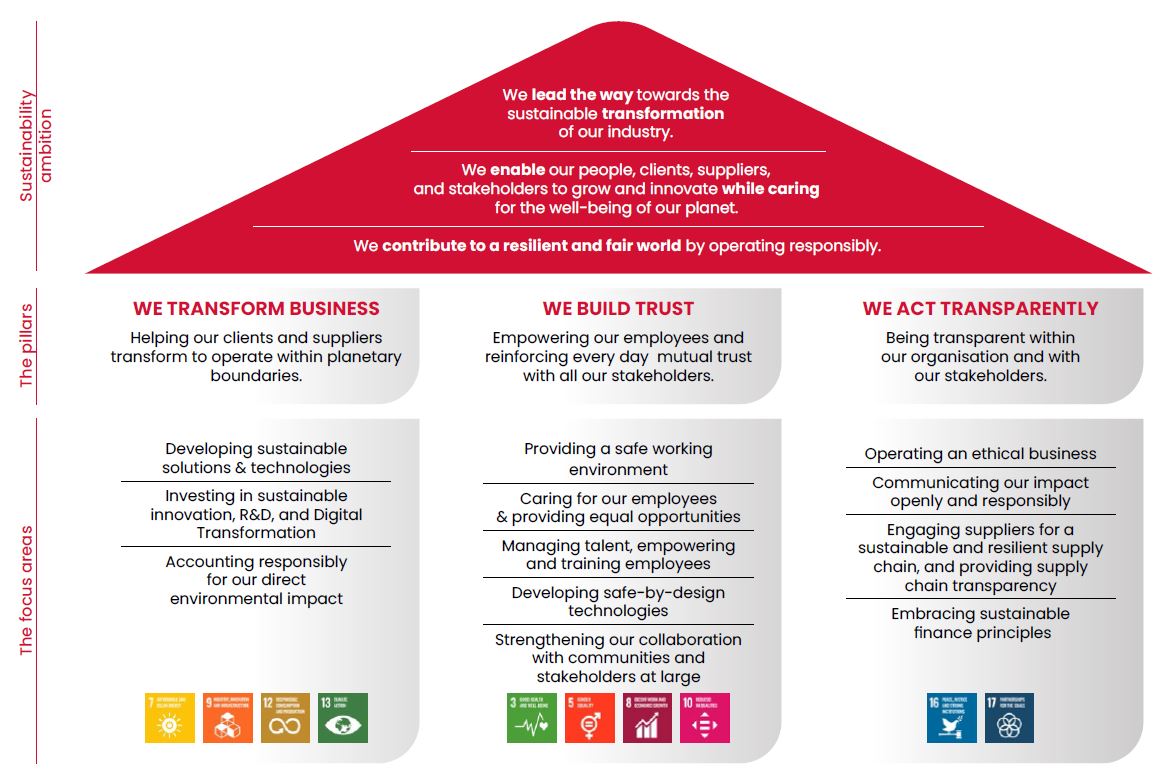 We were now finally ready to start gathering the qualitative and quantitative information and data to compile the report itself. This last phase was undertaken by the Project Team and Operative Committee, with the support of our external partner, using GRI Standards, the world's most widely used standards for sustainability reporting, provided by the GRI (Global Reporting Initiative).
Our 2022 Sustainability Report was published this June. It illustrates our achievements and actions, guided by ESG principles and the UN Sustainable Development Goals, as well as outlining our strategy for our journey forward setting the baseline for incremental, transparent and measurable concrete actions over the coming years. It represents the first formal step in our goal to continue to enable our people, clients, suppliers and stakeholders to grow and innovate while caring for the wellbeing of our planet.
Want to know more?
Get in touch with our experts on the subject